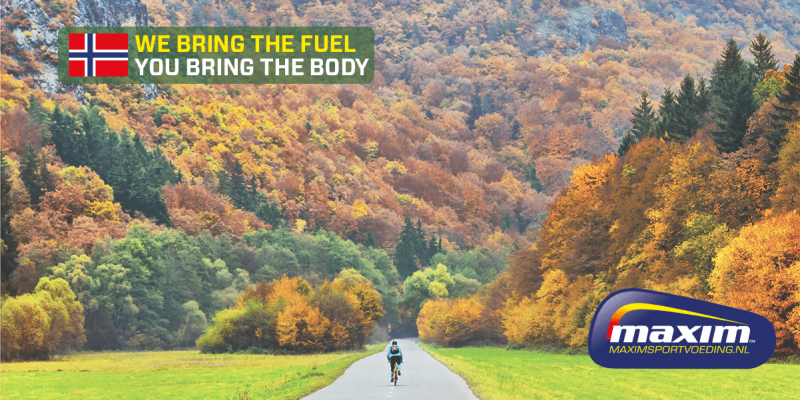 Autumn – New energy – The best sports nutrition tips!
Wed 23 September 2020 by Lianne Van den Bosch
Autumn has started and suddenly you roll from the warm asphalt onto the wet road or dirt road. The days are getting shorter, the sun is lowering, the temperature is dropping and nature changes into a beautiful color palette. In any case, it will be enjoying nature. Road bike, mountain bike or gravel bike? What happens to your energy management in the fall?
The changes of the season not only have an impact on nature, your body also reacts to it. We adapt our lifestyle; the training schedules change and we also start to eat differently, simply because the supply of fresh products changes, but also because the days are getting shorter. The new season therefore requires a different approach. Warmer clothing, higher intensity, more interval and other wattages have an impact on your energy and moisture balance.
In addition, it is known that you forget to keep drinking and eating well in colder weather conditions, with all the consequences that entails. Your body is screaming for energy and before you know it you are empty and you are hungry and then the road to the finish line is still a long time. This is a challenge for many cyclists, because drinking enough is the basis for a good performance. Because you perspire less, in principle you also need less moisture and minerals. But moisture is very important for proper combustion and heat dissipation! Drink at least 500 ml Maxim Sports Drink per hour!
During exercise we recommend consuming 60-80 grams of carbohydrates per hour. If you drink less, you also automatically supply fewer carbohydrates, so that your energy level can drop quickly. To maintain the energy supply, you could add 1 scoop of Maxim Carbo Loader to your sports drink. It does not sweeten the drink, but it does provide more energy in your bottle. In addition to your sports drink, take a Maxim Energy Bar every 60-90 minutes. If you prefer liquid nutrition, take 2 – 3 servings of Maxim Energy Gel per hour in addition to your sports drink.
Enjoy the ride !!